How to Choose the Right Type of Restaurant to Open
The restaurant market is quite a competitive business, dripping with establishments for diners to choose from, and even more restaurants open here and again. Owning a restaurant is a never-ending game, and you have to stand out and get people excited, to succeed. And since you already decided to start and are reading this article – let us congratulate you!
There are a lot of factors determining your restaurant type and concept, and research of your target audience (age, preferences, occupation), competitors (establishments running already, the menu they offer), and the location (premises and utilities available) should be considered first. Other elements include defining your budget, interviewing your potential employees to identify your future team, and establishing the size of your staff. All these added up, form a business strategy and make your dream business real. Here in this article, we describe basic restaurant types, with the advantages and disadvantages of each type listed to help you build your business properly.

That is why, the team of Restaurants A to Z has prepared a list of types of restaurants to guide you in this complex selection process.
Going Franchise, or Going Independent
Before diving into the types of restaurants, decide on whether you are starting your business from the ground up, or under the well-known name. While the franchise is an already proven success generating profits, an independent greenfield restaurant is a whole new world where you are the boss. Below are the positive and negative aspects of becoming a franchisee:
Pop-Up Restaurant
Pop-up restaurants have been a trend recently, and the idea keeps evolving. These are a great launching site if you haven't decided on the format yet. Be it a Japanese restaurant or a steak house – you can choose any kind of diner and try different types before opening a brick-and-mortar restaurant.
Pros of running a pop-up restaurant:
Cons of running a pop-up restaurant:
Fine Dining Restaurant
The highest-priced restaurant type, is synonymous with crisp white tablecloths, waiters in tuxedos, and a chic atmosphere. It requires impeccable service and high-level knowledge of gourmet restaurants cuisine type and is known for the wide choice of expensive wines. People choose fine dining establishments for business meetings or to celebrate their birthdays, weddings, etc. The customers are assumed to make a reservation, so ensure you have a well-established communication system.
Pros of running a fine dining restaurant:
Cons of running a fine dining restaurant:
Casual Dining Restaurant
Casual dining restaurants are known for their low-key atmosphere, contemporary design, and moderate prices. They are among the most popular types of restaurants. Falling in between the fine dining restaurants and fast food restaurants, this type of eatery serves quality foods at a reasonable price, table service included. The focus here is on a specific brand, with unique décor, local traditions featured, or specific food served.
A common tendency is a farm-to-table concept: people get more and more conscious of the origin of the food they consume, especially in big cities. Team up with local farmers or vendors and order meat, dairy, and greenery from them. This would show your customers that you support the local community and care about the food origin. In addition, local organic products make your menu more sophisticated and posh;
Pros of running a casual dining restaurant:
Cons of running a casual dining restaurant: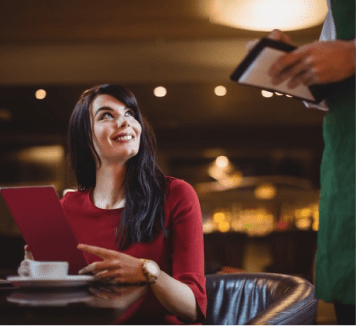 Fast-Food Restaurant or Fast-Casual Restaurant
Fast food restaurants are probably most appealing to the audience owing to their convenience, low prices, and speed of serving. This is why the ingredients are usually pre-cooked and easy to serve. Another bonus offered to patrons is the delivery service and/or a pickup counter, making the dining experience even more advantageous and faster.
Fast-casual restaurants are hitting the top among different types of restaurants right now. They fall in between the casual dining restaurant and the fast-food establishment. Food is healthier and fares are higher than in fast-food restaurants, but the accent is still on "fast", so pre-cooked meals are used here.
Pros of running a fast service restaurant:
Cons of running a fast service restaurant:
Ghost Restaurant
With Covid-19 spreading, the industry had to change its format to survive. It was a big break for delivery-only restaurants, putting them in the forefront. Ghost restaurants, a.k.a. dark kitchens or virtual kitchens, became quite a novelty for the eaters recently, working solely with online orders/phone orders. This type of restaurant appeals to a modern audience who opt for convenient stay-at-home ordering.nt stay-at-home ordering.
Pros of running a ghost restaurant:
Cons of running a ghost restaurant:
Food Truck
A food truck is a movable fast food restaurant in essence. You can take your business anywhere and make it known by simply driving down the road. Food trucks serve a single type of food (e.g., tacos, burgers, hot dogs, ice cream, smoothies, etc.) and generally are from the same niche as fast-food restaurants, revolving around pre-made products.
Pros of running a food truck:
Cons of running a food truck:
Café or Bistro
Cafes focus on hot drinks and pastries. You can add tea, small breakfast options, lunch, finger foods, and desserts to your menu. Bistros, in addition to the foods mentioned, serve a wider-range menu, including full courses. Patrons make an order at the counter, pay right here and serve themselves.
Pros of running a café or bistro:
Cons of running a café or bistro:
Gallery
Buffet or Cafeteria
The patrons in buffets are offered an array of foods presented on a platform at a set price. They can take as much food as they want and mix it. The restaurant menu can concentrate on a specific direction, such as Asian cuisine, family-style menu, healthy food, etc. Cafeterias are known to be located in educational institutions, offices buildings, etc.
Pros of running a buffet or cafeteria:
Cons of running a buffet or cafeteria:
Pub or Bar
Pubs and bars are the perfect places to unwind with friends on Friday evening and maybe watch some sports. This type of restaurant business is well-known for long bar counters and top-shelf alcoholic beverages served with meat, finger foods, and snacks. Bars are usually a sports fan destination, so a TV, a dartboard, and the billiards are innate here.
Pros of running a pub or bar:
Cons of running a pub or bar:
The options availablThe options available are uncountable: you can combine and fuse different kinds of restaurants creating a completely new concept. Following a business strategy laid down is the key to success in this exciting, tough, but most rewarding venture you've ever jumped into.
IIf you're thinking about a career as a restaurateur, you honestly couldn't pick a better place to start. Contact our restaurant experts to learn more about how to choose the right type of restaurant to open. We will set your idea into action and consult you on any issues you may face!
Get in touch
Have an idea for a project?
Let us help you to avoid mistakes